BLUE SEA COSTA TEGUISE BEACH ***
Avda. del Jablillo, 5 35508 Costa Teguise, Lanzarote (Islas Canarias), Spain. aptosbeach@blueseahotels.es +34 928 590 055
---
Ocean views and relaxation are the order of the day at this modern family-friendly resort.
Blue Sea Apartments Costa Teguise Beach makes the perfect destination for a relaxing Lanzarote holiday. Facing the coast with spectacular views over the ocean's blue waters, it's hard to believe the hotel is based just off the main boulevard in Costa Teguise.
A short stroll will take visitors to Jablillo beach, which is the ideal place to spend a day in the sun with its curving sandy shores. Cucharas beach is also just 600m away and is a bustling hub filled with visitors soaking up the island's warm rays.

Accommodation at Apartamentos Costa Teguise Beach is reflective of typical Canarian style, with whitewashed villas holding 99 simple, clean apartments. The self-catering flats and studios are set in extensive grounds featuring manicured lawns and palm trees for a truly Atlantic feel.

The residence contains a sun terrace, where guests can lounge on sunbeds and take a refreshing dip in one of two large swimming pools. There is also a children's pool, which provide a fun, safe environment where the kids are kept entertained.

Guests who prefer to self-cater can make use of the plentiful amenities in their apartments, and the nearby shops for stocking up on the essentials. There are also two bars open for most of the day, which serve meals in buffet style along with light refreshments such as hot and cold drinks and snacks.
FACILITIES BLUE SEA COSTA TEGUISE BEACH
---

2 Outdoor pools

Restaurant

Pool Bar

24hr Reception

Free Wi-Fi

All Inclusive

Children's Pool

Parking

Bar

Tennis court

Pool Towel (additional charge)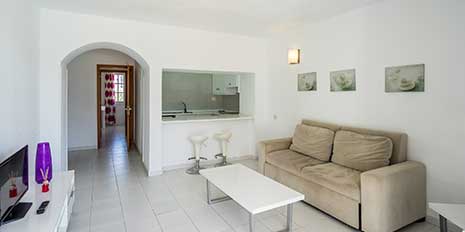 One Bedroom Apartment
One bedroomed apartments are clean and simple. They contain twin beds in a separate bedroom, and contain plenty of space for luggage storage. The bathroom has a bath on offer, while an open-plan living and dining area is spacious. The kitchenette and terrace or balcony make great spaces to cook and eat. Free Wifi included.
from 17 July 2017 until 17 July 2021
STUDIO
Studio rooms come equipped with twin beds in a room/living area, a fully equipped kitchenette and a spacious private bathroom. Guests can also enjoy use of their own balcony or terrace, complete with table and chairs. Free Wifi included.
from 11 August 2017 until 11 August 2021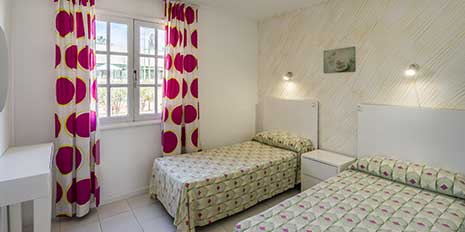 One Bedroom Apartment (single occupancy)
If you're travelling solo but you're still after plenty of space, a one-bedroom apartment for one is a great choice. You'll have twin beds at your disposal, plenty of storage, and a bathroom. An open-plan living room and kitchenette makes cooking and eating nice and easy, and you'll also have your own balcony or terrace to lounge on. Free Wifi included.
from 11 August 2017 until 11 August 2020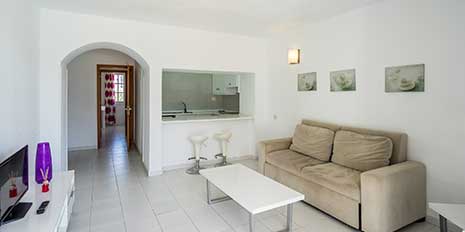 Two Bedroom Apartment
Great for families or friends, our two-bedroomed apartments have two rooms with twin beds, and an open-plan living and dining area. The kitchenette is fully equipped, and a bathroom contains a bath. These apartments have great views, which can be enjoyed from furnished balconies or terraces. Free Wifi included.
from 11 August 2017 until 11 August 2020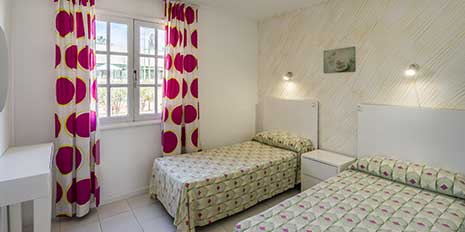 Single Parent Apartment
These one-bedroom apartments are a great choice for single parents, as kiddies can sleep on the sofa bed in the living room. The apartments contain a separate bedroom with twin beds, a bathroom and the open plan dining and living area means you needn't break your family routines. The kids will also enjoy having their own terrace or balcony on which to play in the sunshine. Free Wifi included.
from 11 August 2017 until 11 August 2022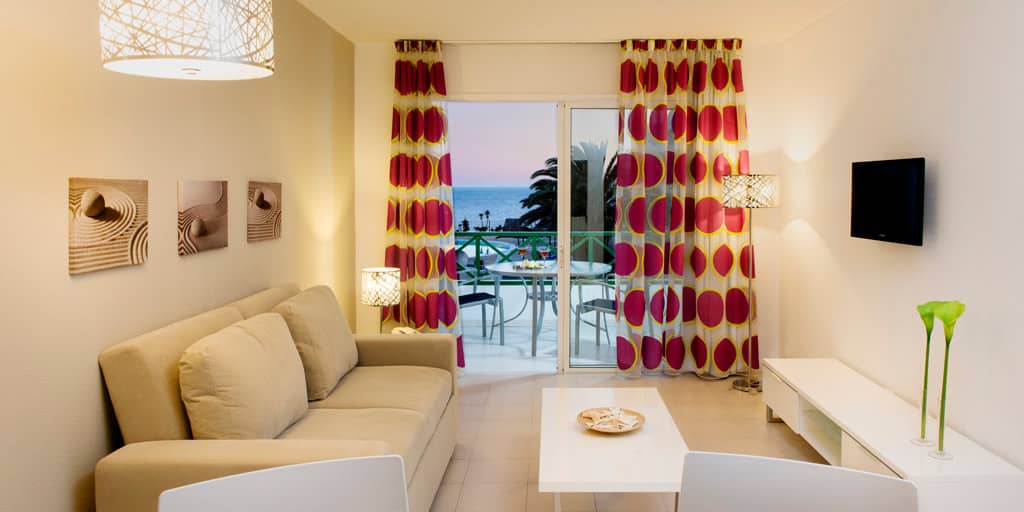 Superior Apartment with Sea View
This apartment is 42m² in size and has one bedroom, a separate living area with sofa beds as well as a private bathroom with bathtub. The kitchenette comes fully equipped with hob and fridge. Guests can also enjoy use of a private terrace with table and chairs and have a great sea view. Free Wifi included.
from 11 August 2017 until 11 August 2021

Kitchen Facilities

TV (additional charge)

Free Wi-Fi

Terrace or Balcony

Telephone

Safe (additional charge)

Hair Dryer (additional charge)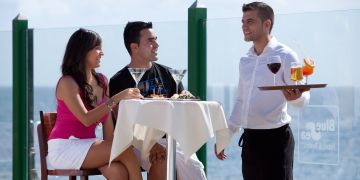 All Inclusive
All inclusive at Blue Sea Costa Teguise Beach is a great value for money option and includes buffet style breakfast, lunch and dinner plus a range of snacks and drinks served throughout the day until 22h.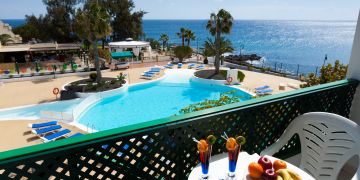 Other Board Options
Bed & Breakfast: The Bed & Breakfast option allows guests to enjoy the buffet breakfast inclusive in the price.
Half Board: For those who prefer to put away the pots and pans on holiday, half board gives you the option of taking buffet breakfast and buffet/set menu dinner in the restaurant. Drinks are not included.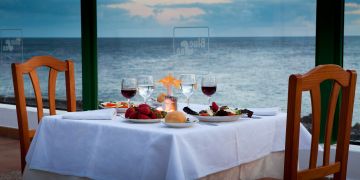 Buffet Restaurant
The buffet restaurant serves hot and cold food for breakfast, lunch and dinner and is perfect for those who like to be catered for.
Breakfast: 8.00 - 10.00 | Lunch: 13.00 - 15.00 | Dinner: 19.00 - 21.00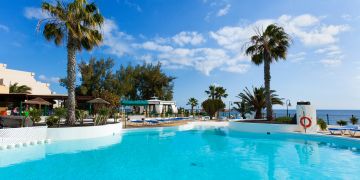 POOL BAR
The poolside bar is on hand to provide refreshing snacks and drinks throughout the day – ideal for keeping sunbathers cool and energised.
Beverages: 10.00 - 23.00 | Cold snacks: 10.00 - 18.00 | Hot snacks: 13.00 - 15.00
BLUE SEA COSTA TEGUISE BEACH
Address: Avenida del Jablillo, 5 35508 Costa Teguise, Lanzarote (Islas Canarias), Spain. Email: aptosbeach@blueseahotels.es
Found in a great spot on the Costa Teguise, in Lanzarote, the Costa Teguise Beach hotel enjoys a blissful location.
The two beaches of the area are just a few minutes' walk from the hotel, but there is a choice of five within the nearby area. Expect golden soft sand, and clear blue water on the Costa Teguise. Action-loving families should give Playa del Jabillo a visit, as it's just a stone's throw from the apartments, and offers a great range of things to do for all ages. Las Cucharas is popular for wind surfing beach, so adrenaline junkies should head there.
The nearby water park offers full days of adrenaline, with slides and splash pools to please all. If you're a keen golfer, the neaby Costa Teguise Golf Club offers 18 holes of enjoyment – often cited as one of the Canaries' best!
When you've had quite enough of water activities, Lanzarote's capital, Arrecife, makes for a brilliant day trip. It's just a short drive away, and offers great food and drink, museums, galleries, and shops to explore. If you're a sucker for a good view, the city is also home to the island's tallest building.