Whether you're looking for adventure, laid-back vibes or a cosmopolitan cultural escape, Puerto de la Cruz hotels have something to please every holidaymaker. When it comes to things to do, beaches, lidos, gardens, museums and theme parks are just some of your options in Puerto de la Cruz.

At night Puerto de la Cruz ramps up the fun, and while it never quite reaches the dizzying heights of Playa de las Americas's 24 hour thumping bass it still knows how to party. Start your evening sedately watching the world go by from one of the many bars in the plaza, catch a local football match or premier league game in a sports bar or enjoy a cocktail near the harbour.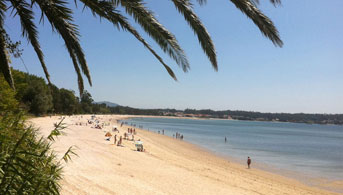 Playa Jardin
The dark volcanic sands contrast beautifully with the array of colour bursting from the sub-tropical gardens which lie behind this long stretch of beach. A breakwater just off shore protects swimmers from stronger waves and currents. Ideal for families, with plenty of shops, bars and snack spots to refuel after a fun day at the beach.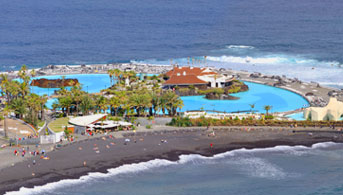 Playa Martiánez
Playa Martiánez is a must for beach fans wanting to avoid the Lago Martiánez crowds. All the amenities are still close enough to use but the beach has the added advantage of some amazing views of the La Orotava Valley. The waves here can get a little rough, which makes it popular on the Tenerife surfing scene. Tip: swim at Lago Martiánez and chill out on the volcanic sands watching surfers wipe out in the waves of Playa Martiánez.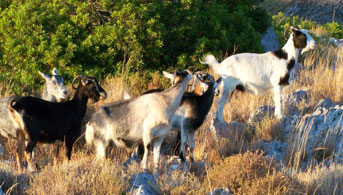 El baño de las cabras
Every 24th June, Puerto de la Cruz harbour plays witness to a bizarre sight. Hundreds of goats are herded onto the small pebble beach and treated to an impromptu bath. Goatherds believe that bathing their animals in the midsummer sea water will increase the health and fertility of their animals. Magical harbour waters aside, make sure you trot down to the water's edge early to catch this ancient Guanche tradition.
Tenerife Carnival
Carnivals are a big deal in Tenerife, with every town and village celebrating in its own unique way. That said, some of the most elaborate celebrations can be seen in Puerto de la Cruz. Do your feather boas, sequins or fancy dress and join in the fun! The town will be decked with decorations and stalls and kiosks pop up selling Canarian food, drinks and crafts. Usually held in late February or early March, check online before you travel as the dates change every year.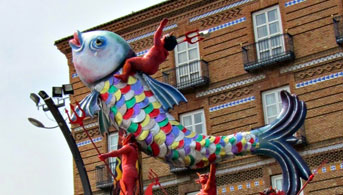 Burial of the Sardine
Technically this is part of the carnival tradition, but it's so bizarre it deserves a mention all of its own. A giant, elaborate, papier mache model of a sardine is paraded through Puerto de la Cruz's streets on Ash Wednesday. Followed by locals playing the roles of 'weeping widows' and mourners, the procession ends at the harbour. The sardine is then set on fire and a spectacular fireworks display marks the end of the ritual. A true Canarian spectacle, not to be missed.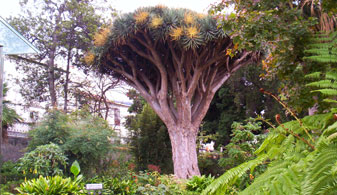 Jardín Botánico
Keen gardeners and plant lovers should not miss a trip to Jardín Botánico. Various horticulture experts have been tending the thousands of species of plants on display here since 1788. The results? A lush, green, tropical paradise full of vibrant colour and gently wafting fragrant scents.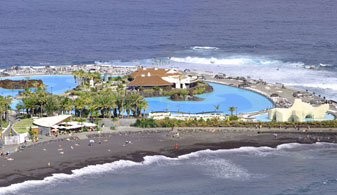 Lago Martiánez
Designed by Lanzarote-born architect César Manrique, Lago Martiánez is a beautiful complex of man-made lakes, pools, terraces, gardens and restaurants. Plenty of fun on offer here for all the family - children can play and splash in one of the three kids pools, and adults can relax in the sun, take a dip or even see if 'Lady Luck' is on their side in the complex's underground casino.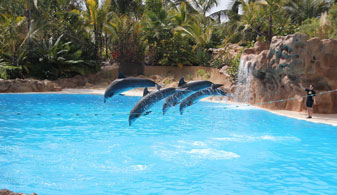 Loro Parque
You won't fail to miss the large banners and flags advertising Loro Parque dotted around Puerto de la Cruz. Famous for its impressive collection of over 350 different species of parrot, the park sees huge numbers of visitors every year. Highlights include the new Australian themed Katandra Treetops attraction where you can spot birds in a fair recreation of their natural habitat and be sure to check out the adorable penguins in their snowy exhibit. The park is also home to captive dolphins and orcas, who perform daily shows.
OUR HOTELS IN PUERTO DE LA CRUZ
---