BLUESEA Copacabana
+34 972 365 112 | hotelcopacabana@blueseahotels.es
C/ Frederic Mistral 40-48, Lloret de Mar 17310, Girona España
FACILITIES

BLUESEA COPACABANA
---

24hr Reception

Free Wi-Fi

Outdoor Pool

Play Area

TV Room

Air Conditioning

Entertainment Programme

Buffet Restaurant
If you are looking for a holiday in Costa Brava, el BLUESEA Copacabana is a three-star hotel with 162 rooms located in a privileged location in Lloret de Mar. One of the main features of this hotel is its value for money, offering comfortable and affordable accommodation in a strategic location close to the beach and the city's tourist attractions.
The hotel offers a wide selection of simple and comfortable rooms, all equipped with all the necessary amenities for a pleasant stay, including air conditioning, flat-screen TV, and a private bathroom. In addition, the hotel has an outdoor swimming pool surrounded by sun loungers and parasols, ideal for sunbathing and relaxing.
BLUESEA Copacabana also has a buffet-style restaurant, which offers a variety of affordable breakfast and dinner options. The buffet offers a selection of local and international dishes to satisfy all tastes and preferences.
The establishment includes a games room, lounges and activity programme (seasonal), making it an excellent choice for those looking for value for money accommodation.
As for the hotel's surroundings, guests can enjoy Lloret beach, as well as a wide selection of restaurants, bars, and shops. Additionally, Lloret de Mar has several tourist attractions such as the church of Sant Romà, the castle of Sant Joan, and the Santa Clotilde Gardens, among others.
In summary, BLUESEA Copacabana in Costa Brava is an excellent choice for those seeking a comfortable and affordable stay in a privileged location for their holidays.
You will be welcome!
Double Room
Our double rooms are characterized by their spaciousness and offer free Wi-fi, air conditioning, TV, private bathroom with hairdryer and balcony or terrace. A safe can also be hired at an additinal cost.
Air Conditioning

TV

Terraza

Teléfono

Caja fuerte (coste adicional)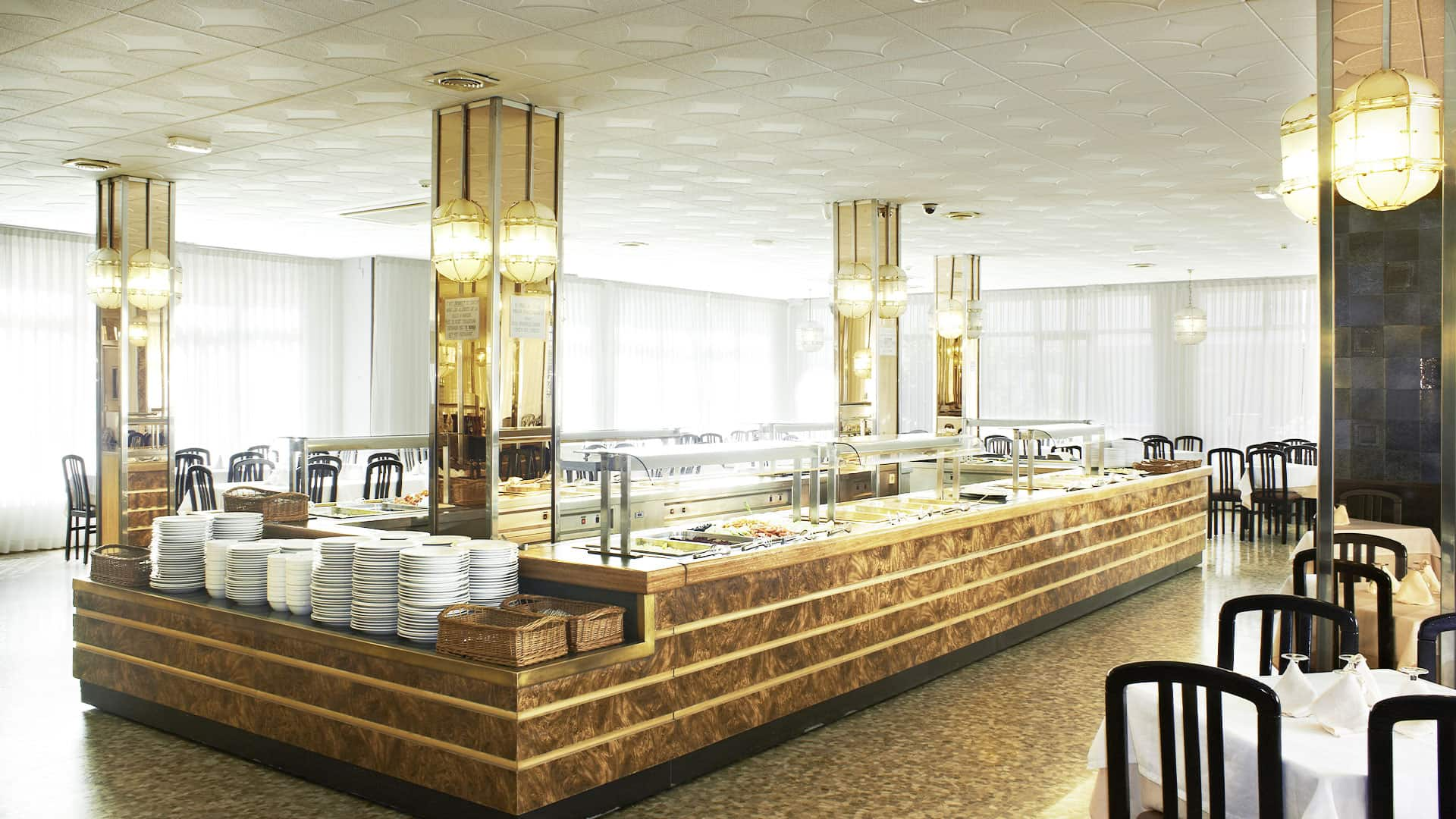 BUFFET RESTAURANT
In our buffet you will find a wide variety of hot and cold dishes to enjoy delicious breakfasts, lunches and dinners. We also offer a selection of homemade desserts and a variety of drinks to complement your meal. If you come with half board, drinks are charged separately. We hope you enjoy your buffet experience!
BLUESEA Copacabana
Lloret de Mar - Gerona
Address: C/ Frederic Mistral 40-48, Lloret de Mar 17310, Girona Spain. Email: hotelcopacabana@blueseahotels.es
BLUESEA Copacabana is a hotel located in the heart of Lloret de Mar, making it a perfect choice for those who wish to enjoy the spectacular beaches of the Costa Brava. Its idyllic location offers a wide range of bars, restaurants, and shops on the seafront that ensure a complete getaway.
If you're looking for exciting water activities during your vacation, Lloret de Mar offers a wide variety of options that guarantee unforgettable moments. You can also enjoy the unspoiled cove of Sa Boadella or the beautiful Fenals beach, both ideal for snorkeling.
For those interested in culture and nature, the castle of Sant Joan, the Gothic church of Sant Romá, and the Santa Clotilde gardens offer spectacular views that you cannot miss.
If you're a night owl, the tourist area of Lloret de Mar has a wide range of nightlife options to enjoy good times.
The Gerona airport is only a 30-minute drive away and the Barcelona airport, El Prat, is approximately 1 hour and 15 minutes from our hotel with half board.
We don't want you to miss any details of this wonderful getaway, so we recommend visiting our blog, where we detail the best charming corners of the area.
Have we convinced you? BLUESEA Hotels is waiting for you to have an unforgettable vacation!