Touch down on the lunar landscape of Tenerife, don your sun hat, and get ready to explore the Costa Adeje. Families can expect a warm welcome in the form of the resort's blue flag beaches and action-packed theme parks. Couples may enjoy the fantastic walking and hiking routes, while everyone should try and fit in a spectacular sailing trip and tuck into the huge range of fantastic food on offer at the many restaurants and bars.

When it comes to nightlife, the Costa Adeje continues its relaxed way of life into the wee hours. Think beach bars, classy cocktails and crisp bottles of Spanish wine rather than thumping clubs. But if it's a steady beat you're after, the happy-go-lucky nightlife of nearby Playa de las Americas is just a short bus or taxi ride away.
If you're in the mood to explore further afield, Costa Adeje hotels provide a great base to discover the rest of Tenerife. The beautiful harbour town of Los Cristianos is around a ten-minute drive away, peaceful La Caleta can be reached in 15 minutes, and you'll find yourself in the famous Teide National Park in less than an hour by car.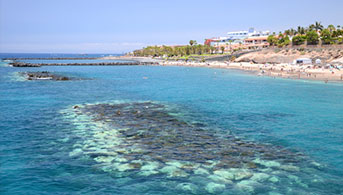 Playa el Duque
Arguably the best beach of the Costa Adeje, Playa el Duque is the place for couples and grown-up families to head to. With reed umbrellas and sun loungers, beach huts, and rocks sheltering each end of the beach, Playa el Duque is all about premium beach relaxation.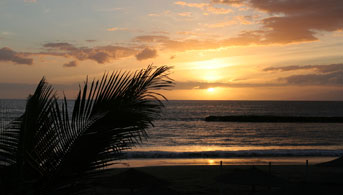 Playa Fañabe
Playa Fañabe is the beach for families. A gentle, shallow beach within a soft curving bay, and with a Blue Flag status to boast about, parents can lie back and relax while little ones play at Fañabe. Energetic teens will love the range of activities on offer, from banana boat rides to Jet-skis. Behind the beach, there's a range of restaurants and cafés, so even lunch is hassle-free here.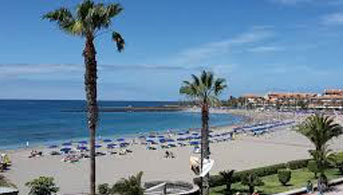 Playa de Diego
Feeling brave on your Costa Adeje holiday? Take a trip to Playa de Diego and you might be tempted to whip off a layer or two! Part of this beach has a nudist section but Lycra on or off, it's simply a charming beach, with rounded rocks sheltering the beach from behind, and looking out over impeccably clear water.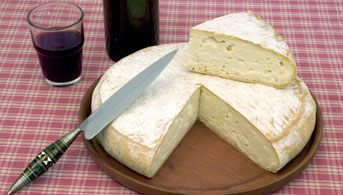 Canarias Folk Fest
Head to Los Cristianos on a Wednesday or Thursday from 4pm for the Canarias Folk Fest. A crafts and food market, the event also includes live performances from local folk bands from all around Tenerife. It's a great opportunity to grab yourself a glass of local wine or beer with a slice of Canarian culture on the side!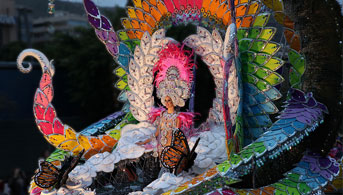 San Sebastian Festival
A traditional festival that dates back decades, Costa Adeje bursts into life every 20th January for the San Sebastian festival. You'll see the owners and farmers of goats, sheep, donkeys and horses ride or herd their animals into the sea to be blessed by the local priest. It sounds a little bizarre, but it's quite a sight to experience! After the horses have been safely stabled, the townsfolk fill the streets, with dancing and live music to celebrate.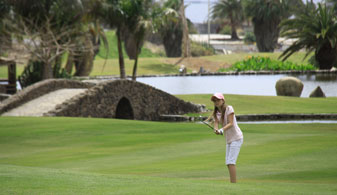 Golf Costa Adeje
If a restful golfing session is high on the agenda, don't miss Golf Costa Adeje. Impeccable rolling turf is dotted with white sand bunkers and rustic walls, made from the stones of the old banana plantation that used to occupy the land. The club offers an 18-hole course of par 72, and a 9-hole course of par 33. The clubhouse has a modern restaurant, a gym and a pool for those not playing.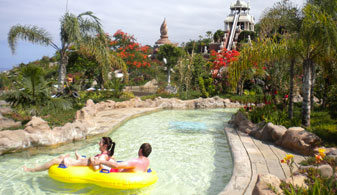 Siam Park
Rated the best water park in the world according to TripAdvisor, if aqua-fun is your thing, you really shouldn't miss out when in Costa Adeje. The park sits on the outskirts of town and offers a complete day of water-fueled fun. There's a family section with smaller rides for little ones, as well as plenty of splash zones. For the white-knuckle seekers, the adrenalin rides of The Volcano, Tower of Power, and the Mekong Rapids should suffice. There's also a Floating Market, Mai Thai River, and Siam Beach for ultimate relaxation.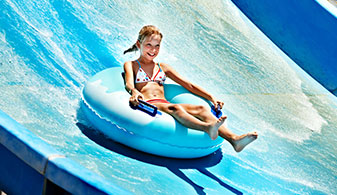 Aqualand Costa Adeje
If Siam Park sounds a little bit like too much adrenalin, the slightly quieter Aqualand Costa Adeje might be up your street. This park offers a fun splash park for kids, slides and rides, and even a dolphinarium where you can watch a jumping show, feeding time, and learn about the park's conservation.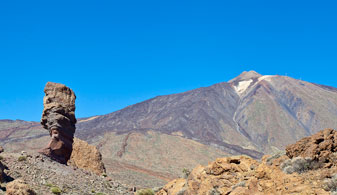 El Teide National Park
Mount Teide rises a huge 12,200 feet tall with a volcanic crater that's 30 miles wide. It's the highest peak in all of Spain and straddles the whole of Tenerife. Head around an hour inland and catch the Teide cable car to the peak for panoramic views and a gorgeous landscape. Take your sun cream though as the air genuinely does get thinner the higher up you venture, and sunburn can creep up on you before you know it.
OUR HOTELS IN COSTA ADEJE
---