An island of variety, Lanzarote is a great destination for families. There's a selection of things to do, from water parks and beaches, to a national park filled with wild animals, and an aquarium.
Couples will enjoy the long, signposted trails wiggling all over the island, and trips to the Cueva de los Verdes are well worth it. Tickle your tastebuds with a trip around a vineyard, or simply sit back with a local tipple or two by the waterfront.
Sitting pretty off the coast of West Africa, Lanzarote, like all the Canary Islands, enjoys blissful weather for most of the year. During the winter, the temperatures are mild – ideal for cycling. While the summer is reserved for swimming, swimming, and more swimming. The rainy period is generally early in the year, but even then you won't be experiencing monsoons!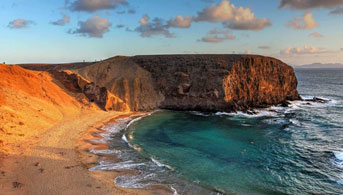 Puerto del Carmen Beaches
There are several beaches in Puerto del Carmen. The Playa Grande is the largest and most popular, with lifeguards, showers, hammock and umbrella rental, as well as boats and watersports galore. Los Pocillos beach is ideal for surfing and windsurfing, as the breeze is funnelled round the sweep of the bay.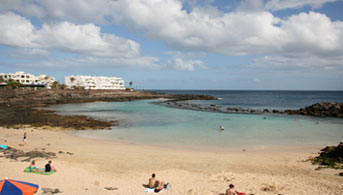 Costa Teguise Beaches
There are five beaches in Costa Teguise. Playa Cucharas is the main beach, with plenty of sun loungers, and soft golden sand. The water is shallow and calm, which is ideal for younger paddlers, and there's a toilet block just a short wander away. There's usually a cordoned-off windsurfing area, so all can beach as they like in peace. Head to Playa Jablillo if you're after warm water. The volcanic barrier keeps the water shallow, meaning the water is heated by the sun in no time.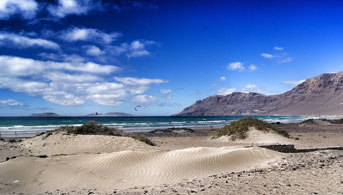 Playa de Famara
Located on the north of the island, is the one to go to if you're a surfer. The beach is long and bay-shaped, giving the shallows great waves. There's also a whole host of other water sports to try on this beach, from kitesurfing to windsurfing. Plus, it's just plain beautiuful here, so if the breeze drops down, you can settle down for a well-earned picnic on the sands!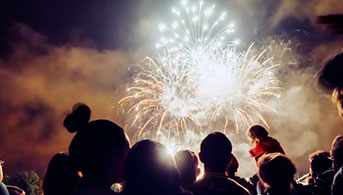 Fiesta de San Ginés
This 10-day festival, between the 15th and 25th of August each year, celebrates and honours Arrecife's patron saint, San Gines. Mainly centred around El Charco lagoon, it plays host to parades and processions through the streets as well as a wealth of local sports, like Canarian sailing and wrestling, before culminating in the crowning of a new Miss Lanzarote. The wild celebrations are topped off with a dazzling fireworks display.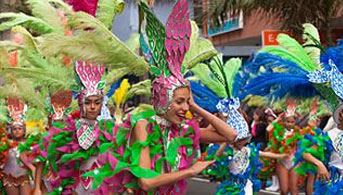 Carnival
Attracting tens of thousands of revellers every year, the Carnival in Puerto del Carmen is the town's biggest party. Celebrated in mid to late February, it's a wild time of music and dancing, floats and processions. With a different theme each year, partygoers don their finest in fancy dress and let it all hang out for three days of hedonistic bliss.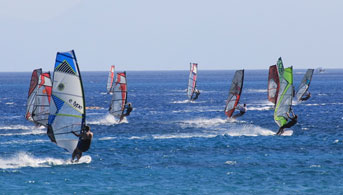 PWA World Championship
The waters off the Costa Teguise coast play host to one of the freestyle stages of the PWA (Professional Windsurfing Association) World Tour, with more than 100 of the sport's elite athletes descending on the resort every summer to show off their moves. Grab the best seat in the house at Cucharas Beach to see some amazing skills.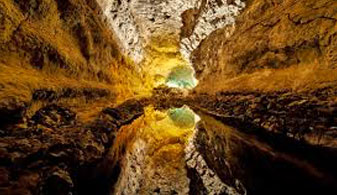 Cueva de los Verdes
Step underground into the chasm of Cueva de los Verdes, and you step back in time. A 1km-long tunnel carved by exploding lava around 5000 years ago, it's barely changed. There are tours that start every half hour, and take around 45 minutes. You'll see lava-stalactites, rough and wonky formations, and there are plenty of nooks and crannies to explore. From September to April there are jazz and blues concerts held within the caves.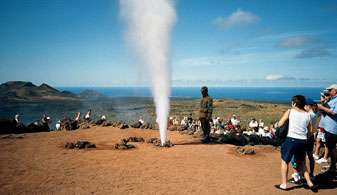 Parque nacional de Timanfaya
It may be a park, but don't expect greenery and flowers. This park is volcanic, and as such it's dark, gassy, and hot. Pick up a pebble on the Islote de Hilario lookout and you'll feel the heat for yourself! The magma chamber broils just 4km below the surface. There's a restaurant – El Diablo - where tricks include burning bushes and explosive geysers, as well as food cooked over the volcanic heat. A little gimmicky, but you won't find anything like it again, that's for sure.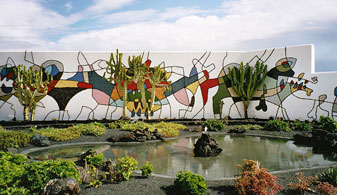 Fundación César Manrique
North of Arrecife, the gallery in which César Manrique lived is an island must. It's Manrique Lanzarote has to thank for its traditional development, so it'd be a shame not to pay your respects when on the island. The house merges into the land, built into the lava-hewn caves, and there's even a sunken swimming pool (although you can't get in it). Get inside the mind of the artist, and admire some of his works, as well as Picasso and other works.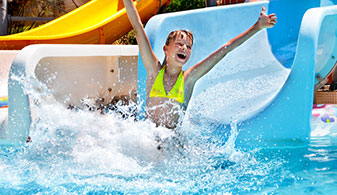 Aquapark Costa Teguise
If you're after a day of splashing around, head to Aquapark Costa Teguise. The water zone has slides galore, as well as pools and splash zones. The park also offers paintball, go-karting, and an obstacle course with zip wires and climbing.
OUR DESTINATIONS IN LANZAROTE
---