Grab your bucket and spade as soon as you can, because no trip to the Costa del Sol is complete without visiting the beaches. Resorts like Torremolinos place you just metres from the beach, so you can wander to sun-warmed sands between stop-offs at tapas bars or your hotel.

Of course – with a name like the Sunshine Coast, the Costa del Sol is always going to be best known for its beaches. But that doesn't mean that it's all that it has to offer holidaymakers. Couples can fall in love all over again wandering the lazy streets of Marbella's old-town, a slice of authentic Spain in one of the biggest resort towns around. Whereas big groups will love making a splash and diving into water sports on offer across the region.

The Sunshine Coast doesn't stop when it comes to nightlife either. Between the high-rises of the Costa del Sol's resorts you'll find endless buzzing bars to be explored. Beach clubs that spill out onto the sand are ideal for celeb spotting with cocktail in hand. For a more Spanish experience, tapas bars stay open 'til late and are well worth exploring for both the food and wine options on offer. No matter what you decide to do, flop back to one of our Costa del Sol hotels and you're sure to have a good night's rest.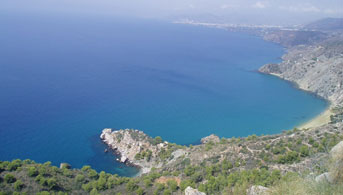 Playa de Cañuelo
320 days of sun and plenty of sand on show – the Costa del Sol has some great beaches. One real hidden gem is Playa del Cañuelo. Regularly named as the best beach in the area, the unusual grey sands and natural feel give a totally different speed to the rest of the Sunshine Coast.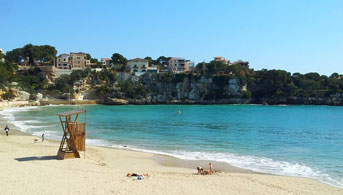 Playa del Cristo
This Blue Flag beach in a cove just outside Estepona is the choice for families. A nearby car park makes getting here ideal, while the shape of the bay and the crystal clear azure waters helps you keep an eye on your little ones.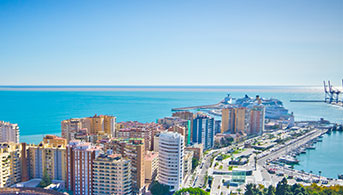 Torremolinos
The original resort town has grown alongside this stretch of soft sands. You'll find plenty of bars spilling out onto the beach making Torremolinos perfect for some late afternoon sun-bathing before you grab a few drinks.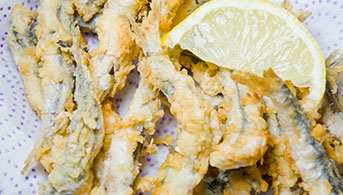 Fried fish day
Any excuse for a party, this Torremolinos event celebrates local produce. Fried fish day is held on the first Thursday of every June. Wander around the La Carihuela fishing district and you'll be able to sample plenty of fried morsels, as the local restaurants hand them out for free!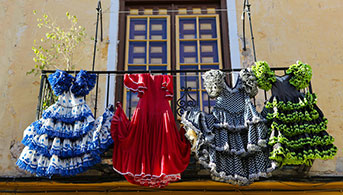 Flamenco Festival
Held in August, this festival is as old as Torremolinos itself (almost). It's a true celebration of flamenco dancing, with dancing and live music overtaking the town.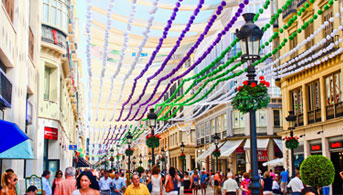 Malaga Fair
If you're in Torremolinos in early August, head down the road to Malaga and get stuck in to the Malaga Fair. It's an incredible festival, with the entire town decked out in lights, a huge funfair, live music and of course, plenty of street food and dancing!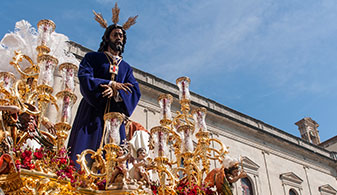 Semana Santa
Travelling to the Costa del Sol around Easter? Then seeing the Holy Week celebrations in Malaga is a must. This totally unique festival is renowned across Spain for its size and cheer. Thousands of festival goers take to the streets but the real spectacle comes when the tronos take to the streets. These huge floats are carried by dozens of bearers and act as walking chapels, some of which weigh 1,000s of kilos!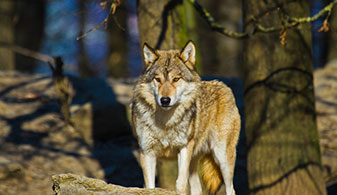 Lobo Park
Those who are up on their Spanish can probably guess what they'll see at Lobo Park. 'Wolf Park' offers you the chance to get up close and personal with these majestic creatures. Primarily a research and scientific institution, Lobo Park offers 400,000 square metres of protected land for wolf packs to roam. Offering tours to visitors, the animals are observed in as natural an environment as possible. A fascinating and educational trip that's perfect for families.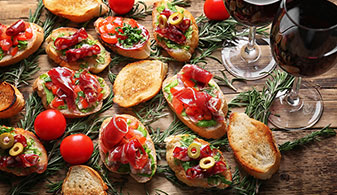 Tapas and Wine Tour
These moveable feasts through Andalusian cuisine are a must do for any foodies who believe that a good holiday travels on its stomach. With either lunch or evening start times (remember dinner in Spain is around 10pm) these walking tours see you sampling tapas bars and a range of small dishes. It's easy to see why this casual dining scene is so popular around the world.
Marbella
From the exclusive clubs along the Golden Mile to the mega-yachts of Puerto Banus – Marbella is where you go to mingle with the rich and famous. This playground for big spenders offers endless glamour to visitors. Take a boat trip, go for a spot of fishing, or simply don your giant sunnies and spend the afternoon boat and people watching.
OUR DESTINATIONS IN COSTA DEL SOL
---
OUR HOTELS IN COSTA DEL SOL
---