We show you what to do and what to visit in Puerto de Alcudia, come and discover it!
Port of Alcudia is a modern town with a very busy leisure port. Highly frequented by tourists in the summer time, it has more than 750 moorings, where you can find small traditional boats such as the Mallorcan 'llaüts' as well as very large yachts that are docked in the Bay of Alcudia itself.
You can enjoy a pleasant walk along the pedestrian area where you can find a large number of shops and a wide range of leisure activities, water activities, excursions, restaurants, shops, ice cream shops, etc. For those who are looking to enjoy the nightlife in Puerto de Alcudia, thare are many pubs and clubs in the area.
You cannot leave Alcudia without having tried some of its traditional Mallorcan cuisine. Dishes such as cuttlefish, lobster, seasoned ''jonquillo'' and the Mallorcan star dish, ¡Pa amb oli! Must be accompanied by a good wine from Mallorca, some sweet herbs or a craft beer from Alcudia.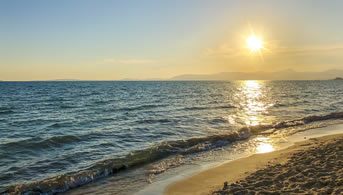 Alcudia beach
The beach of Alcudia is an extensive beach of fine white sand and crystal clear waters with runs for more than 7 kilometers along the coast. Access to the beach is very easy as well as finding free parking. It is an ideal beach to practice water sports, and carry out other leisure activities such as renting a catamaran or sailboat. In addition, Alcudia Beach has slides in the middle of the sea where both adults and children can have a great time. Its waters are very calm and shallow, so it is ideal for families with children. The beach ends at Playa de Muro, which you can access by taking a walk along the sea shore, appreciating the beautiful landscapes that will surround you at every step.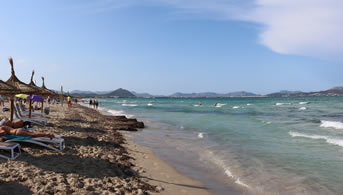 Playa de Muro
Playa de Muro is the largest sandy beach in Mallorca, with a total of 6 kilometers of white sand and sand dunes. It is a very popular beach due to its easy access, variety of restaurants and facilities on the beach itself. There are also areas where activities focused on children are carried out.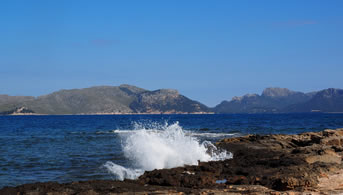 Alcanada beach
The beach of Alcanada is a picturesque beach with transparent waters and a sandy seabed. It is a quiet and familiar beach, with shady areas surrounded by pine trees and an amazing landscape. From the beach you can see the islet of Alcanada, at 150m from the seashore, which one can swim to and appreciate the lighthouse that illuminates and guides the navigators in the area. In its transparent waters, many small boats and llaüts often anchor, especially during the summer. It has plenty of bars and restaurants surrounding the beach at a distance of 1 km.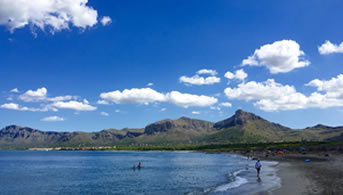 Playa Can Cap de Bou
The beach of Can Cap de Bou, located next to the road between Alcudia and Port de Pollença, is a quiet beach frequented by surfers and fishermen. It is characterized for being a narrow beach as it only a few meters wide but it is very long. The beach has sandy, algae, stone and a mud seabed which makes it very attractive for anglers. Access to the beach is simple. You can park the car on the esplanade, just before arriving at Club Pollentia, or you can access the beach by bus.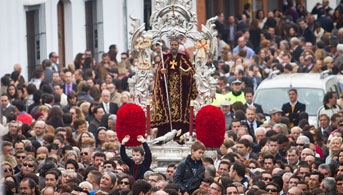 Saint Anthony
This is the celebration of San Antonio Abad, patron of the animals. The "dimonis" depart from the City Hall and bonfires are lit. The traditional Beneïdes (blessings) of animals are celebrated on the 17th January, and are carried out in the esplanade of the church of Sant Jaume.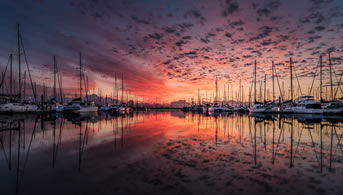 Saint Peter
Saint Peter is considered patron of the sailors and fishermen therefore many of the celebrations are associated to the sea. It is usually celebrated on the 29th June. Boats are decorated to accompany the image of the patron and then sail along the bay in procession. During the week, before the celebration, many cultural and recreational activities are held, with festivals and musical performances.
October Fair
This fair where craftsmanship, industry and commerce combine, begins on the first saturday of October, in the street known as Estol del Rei en Jaume.
On October 20th, on the eve of Saint Ursula, traditional serenades are performed for girls and women. A group of village musicians come together to sing songs under the windows of the homes. These songs have been commissioned by suitors, parents or friends. During thanksgiving, the girls invite the singers to fritters and sweet wine.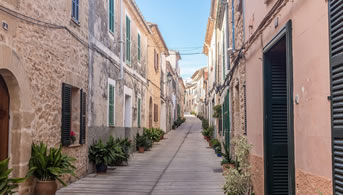 Discover the old town of Alcudia
Visit the old town of this beautiful walled city and go back in time. Get lost in its narrow streets full of historic buildings and charming manor houses.
The old town is full of life with a wide array of restaurants, cafes, terraces and shops where you can enjoy the true spirit of Mallorca. We recommend you to visit the old town both during the day to fully appreciate its beauty, and at night to admire the charming lighting and its Mediterranean essence!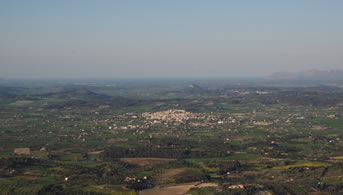 Nature and landscape tours
Alcudia offers beautiful landscapes and natural parks. We recommend visiting Puig de la Victoria, Puig de Sant Martí, Penya del Midgia and the Natural Park of L'Albufera of special importance as it is a natural reserve for migratory birds. If you are interested in history, you can visit the Roman city of Pollentia, founded in 123 BC and located outside the medieval walls of the historic center of Alcudia.
Pollentia is qualified as an Asset of Cultural Interest, together with the historic center of Alcudia.
Another of the most important natural sites is Alcanada beach and its islet, which you can walk or swim to. Two other jewels of nature are the beaches of Sant Pere and Es Morer Vendrell, with their impressive landscape, as well as Can Cap de Bou, the favorite location for windsurf lovers.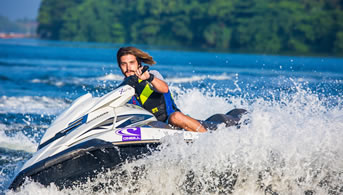 Water Sports Oportunities
The bays of Pollença and Alcudia are recognized for their ideal winds which make them the ideal locations to practice water sports such as sailing but if you are more into kitesurfing, paddle surfing or windsurfing, the most common beaches are Can Cap de Bou, Sa Marina and the final stretch in Alcudia beach.
The north of the island is a very good location for the practice of water sports. as its seabed and its beauty attract sea lovers, with a calm sea and the absence of tides and scarce currents, especially a fauna and flora marine of special interest.
OUR HOTELS IN PUERTO DE ALCUDIA
---