Get ready for a warm welcome! Puerto del Carmen is the longest established resort on Lanzarote, and has everything you could want for a great vacation, ready and waiting. If you're all about chilling on the beach, there's six kilometres of Blue Flag sands to choose from, and the surrounding calm waters make them a perfect spot for families.

Want to up the tempo a wee bit? You could try your skills at windsurfing or dive beneath the turquoise seas in the safe hands of one of the resort's PADI-certified Scuba schools.

There's plenty to explore away from the coast as well, and hiring a bike from one of the many rental shops that line the promenade is an ideal way to discover the local area. If you're a fan of seafood, the old harbour has a wealth of amazing restaurants serving the freshest fish caught just a few miles offshore.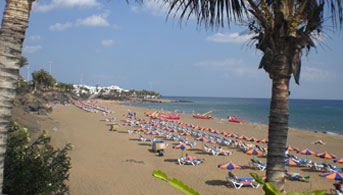 Playa Grande
Puerto del Carmen is a beach-lovers dream, and the kilometre-long golden stretch of Playa Grande is the most popular with families. Proudly flying its Blue Flag for cleanliness and safety, the gently sloping sand and calm, warm waters means kids and toddlers can play and swim to their heart's content.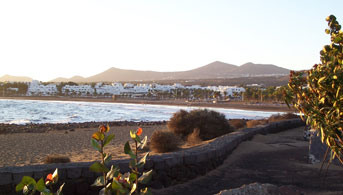 Playa de los Pocillos
A 15-minute stroll along the promenade from Playa Grande, the Playa de los Pocillos has a much more chilled out vibe and is a great beach to just lie back and relax on. Another Blue Flag winner, the white sands are cleaned and combed every day, and the calm, shallow waters are especially popular with windsurfers. Many of the restaurants that line this stretch of the promenade offer free kids meals in the early evening.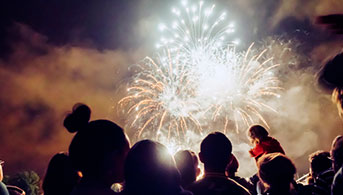 Fiesta de San Ginés
This 10-day festival, between the 15th and 25th of August each year, celebrates and honours Arrecife's patron saint, San Gines. Mainly centred around El Charco lagoon, it plays host to parades and processions through the streets as well as a wealth of local sports, like Canarian sailing and wrestling, before culminating in the crowning of a new Miss Lanzarote. The wild celebrations are topped off with a dazzling fireworks display.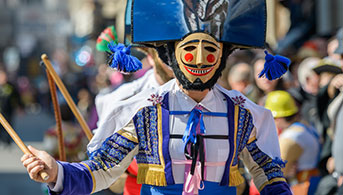 Puerto del Carmen Carnival
Attracting tens of thousands of revellers every year, the Carnival in Puerto del Carmen is the town's biggest party. Celebrated in mid to late February, it's a wild time of music and dancing, floats and processions. With a different theme each year, partygoers don their finest in fancy dress and let it all hang out for three days of hedonistic bliss.
Rancho Texas Park
Set your inner cowboy free at this fun-filled Wild West theme park. Here, you get to seek your fortune in its very own gold mine, mosey amongst the tepees in the Indian village or get your adrenalin surging with some of the wildest water slides this side of the Rockies! The Wildhorse Saloon is the place to dry off and enjoy some fine BBQ, before taking in the amazing bird of prey show, with condors, hawks and eagles hunting just inches overhead. You can even join the real stars of the show, the playful sea lions, as they perform their hilarious tricks.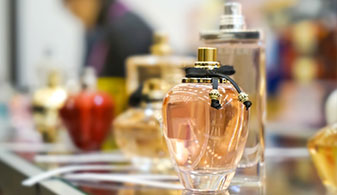 Biosfera Shopping Centre
What's a holiday without a healthy splurge of retail therapy? Overlooking the old town of Puerto del Carmen, this modern mall is arranged over four floors and offers a welcome relief from the bustle of the resort, and a place to wander in air-conditioned comfort. With familiar top name stores from home as well as new brands to discover, Biosfera also houses video arcades and a mini golf course to keep the little ones entertained. In the winter, there's even an ice rink to enjoy. The place to snap up a bargain and relax in one of the great restaurants.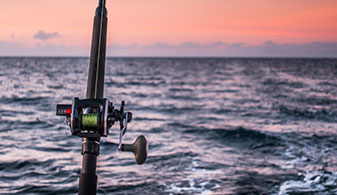 Escualo Fishing Trip
Climb aboard TripAdvisor's number one rated deep-sea fishing excursion, and test your mettle against the big game fish that swarm the North Atlantic. With a highly knowledgeable crew, The Escualo leaves the old town harbour every day, in search of Marlin, Blue-Fin Tuna, Dorado and Wahoo. Limiting the number of fishermen to no more than seven on each trip means you'll be able to take advantage of the crew's years of experience as they guide you through the best way to tackle these powerful fish. For the spectators, there's also the chance to spot dolphins, turtles, flying fish and maybe even a whale or two.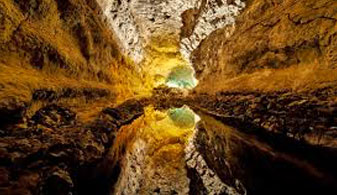 Cueva de los Verdes
Step underground into the chasm of Cueva de los Verdes, and you step back in time. A 1km-long tunnel carved by exploding lava around 5000 years ago, it's barely changed. There are tours that start every half hour, and take around 45 minutes. You'll see lava-stalactites, rough and wonky formations, and there are plenty of nooks and crannies to explore. From September to April there are jazz and blues concerts held within the caves.
OUR HOTELS IN PUERTO DEL CARMEN
---