Family-orientated with a vibrant buzz, Costa Teguise welcomes you to do as much or as little as you like. Its Blue Flag beaches are a big hit with sun worshippers, and the cooling breeze is a welcome addition in the scorching summer months, as well as drawing professional and not-so professional windsurfers to the resort in droves. The surreal volcanic landscape of Timanfaya National Park, a few miles inland, makes for some stunning hiking routes, while the white knuckle rides in the island's biggest water park will satisfy an appetite for excitement.
The nightlife here is wide-ranging and eclectic, with a host of great seafood restaurants and chic Canarian bars alongside authentic British pubs and clubs. For a taste of the true hedonist lifestyle, the party capital of Puerto del Carmen is within easy reach.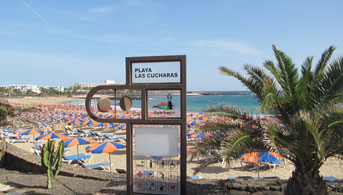 Playa Cucharas
Costa Teguise's main beach is the most popular with families due to its gentle slope into a warm, shallow sea. The mile-long stretch of golden sands are also a major draw for the island's windsurfers and the waters off the coast here are usually partitioned to separate them from swimmers and paddlers. There are facilities aplenty too, with loungers and sunshades available to hire and you're just a short walk from a host of shops and bars, so even grabbing lunch is easy.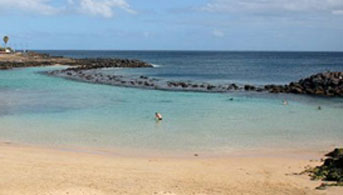 Playa Jablillo
Set inside a small horseshoe bay of volcanic rock, Playa Jablillo is afforded more shelter from the keen winds in this part of the island, making it the ideal beach for swimming. Well stocked with sunbeds and showers, its calm shallow waters are safe for children of all ages and there's a lifeguard on duty all year round.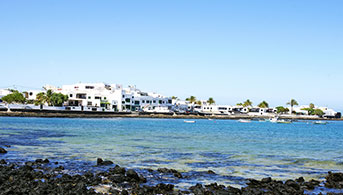 Playa Bastián
Probably the prettiest beach in Costa Teguise, Playa Bastian is surrounded by exotic palm trees that give it a real tropical feel. The least crowded of all the resort's beaches, it's easy to find your own secluded spot here on the fine black sand, and there are excellent facilities close to hand. There are even BBQ grills to cook your food and large stone zocos to shelter from the wind.
PWA World Championship
The waters off the Costa Teguise coast play host to one of the freestyle stages of the PWA (Professional Windsurfing Association) World Tour, with more than 100 of the sport's elite athletes descending on the resort every summer to show off their moves. Grab the best seat in the house at Cucharas Beach to see some amazing skills.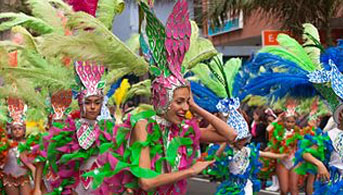 Carnival
A wild fiesta of music, dancing, costumes and street parades, Carnival time in Lanzarote is a treat for the senses and not to be missed. Celebrated in most towns and villages across the island, Costa Teguise pulls out all the stops to ensure its visitors have a fabulous time. Starting at the end of February and going on for several weeks, it's the essential Canarian experience.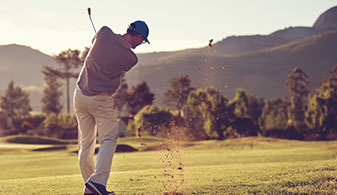 Golf in Costa Teguise
Lanzarote's spectacular scenery coupled with its refreshing year-round sea breeze make it one of Europe's most intriguing destinations for golfers. The 18-hole course at Costa Teguise lies at the base of a dormant volcano and was designed by renowned British landscape architect John Harris. Voted the best course in the Canary Islands by none other than the late great Seve Ballesteros, players are required to negotiate lava rocks, wicked doglegs, cunningly placed sand traps and more than 3,000 mature palm trees. Stunning views over the Atlantic and a first-rate clubhouse are your reward.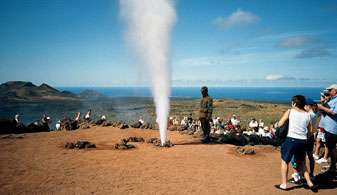 Timanfaya National Park
The otherworldly lunar landscape of Timanfaya National Park is Lanzarote's most popular tourist attraction, and it's not hard to see why. The 100 volcanoes that created this bizarre vista last erupted in 1736, but gives visitors an idea of what the Earth must have looked like when it was first formed. The intense geothermic vapours just below the earth's crust are still around 450-500 degrees Celsius and are used by the aptly named El Diablo restaurant to cook the food it serves its diners. You can try one of their delicious 'volcano-BBQ' dishes for yourself while gazing at the awe-inspiring views.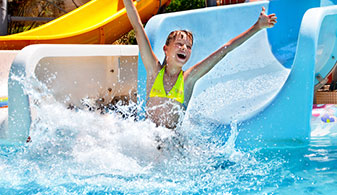 Aquapark
An exhilarating adventure playground of water slides and splash pools, Aquapark promises an amazing experience no matter your age or how brave you're feeling. More daring members of the family will love the twists, turns and stomach dropping free-fall excitement of rides like the Kamikaze and the Spiral, and there are plenty of mini slides and paddling pools for the youngest ones.
OUR HOTELS IN COSTA TEGUISE
---