One of the main attractions of Puerto de Santiago is its peace and tranquility. Whitewashed Puerto de Santiago hotels overlook the village's small beach, a handful of restaurants and bars keep laid-back holidaymakers well fed and the village offers glorious views of the Atlantic ocean and the island of La Gomera across the water.

Expect to spend your days sunbathing on the black volcanic sand or spotting lizards darting through the cactus plants which line the pathways. By night the relaxed atmosphere continues and a handful of low-key bars and restaurants provide food and entertainment late into the evening. If you like your nightlife a little more upbeat head to Los Gigantes for livelier bars and nightclubs.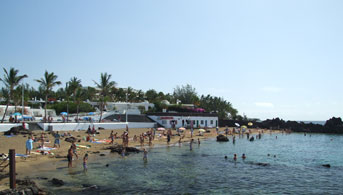 Playa Chica
Puerto de Santiago's only beach may be small but it's perfectly formed. Soft black volcanic sands are surrounded on each side by dark cliffs offering shelter from the cooling trade winds. A small ladder built into the rocks allows access for swimming or just wade in from the shore.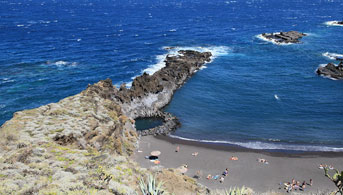 Playa de la Arena
With just one small beach in Puerto de Santiago, most families head south to Playa de la Arena. It's just a few minutes' walk from most of the Puerto de Santiago hotels, and don't let the black volcanic sands put you off. Playa de la Arena has been awarded the coveted Blue Flag award for cleanliness and water quality annually since 1989.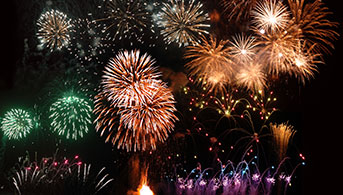 Lady of Carmen - Saint's Day
Every year Puerto de Santiago celebrates Our Lady of Carmen - saint's day. Locals flood the streets, singing, dancing and celebrating late into the night and the festivities are rounded off with a spectacular fireworks display. Though saint's day is officially 16th July, organisers host events throughout July and August.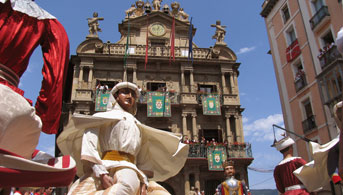 Los Gigantes Carnival
Boasting over 500 different fiestas, celebrations and carnivals, Tenerife is definitely an island that likes to party. The island's carnivals are said to be second only in popularity to Brazil's infamous street parties. That said, it's worth checking out a carnival if one coincides with your stay. Los Gigantes hold their own four-day-long celebration one week after the main celebrations in Santa Cruz and Puerto de la Cruz - usually early March. Expect flamboyance, fun and festivities late into the night!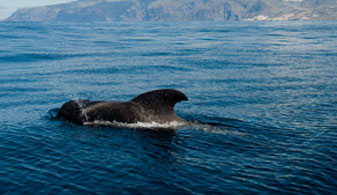 Whale watching
Pack your binoculars, as the warm waters between La Gomera and Puerto de Santiago are a hotspot for pilot whales and dolphins. With a little patience you can easily spot dolphins breaching and playing from the shore. For a more up close and personal experience, take a short walk to Los Gigantes and book a place on one of the many whale watching trips that leave the harbour each day.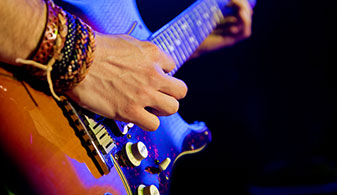 Live music at Route 66
Live music, great cocktails and a party atmosphere are top billing at this Americana inspired bar. Highly rated by locals and holidaymakers alike, the bar draws in the crowds by booking top quality rock acts native to Tenerife. Expect acoustic rock, modern classics and a popular happy hour.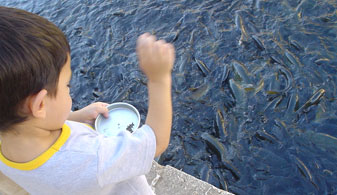 FEED FISH IN THE HARBOUR
For no more than the cost of a loaf of bread, you can enjoy the spectacle of feeding the fish in the harbour at nearby Los Gigantes. Watch large fish leap and splash as they compete for the tasty snack and kids can enjoy spotting the brightly coloured, yet more timid, tropical fish nibbling on leftover crumbs close to the harbour wall. Exotic trumpetfish and large stingrays have been spotted swimming by to see what all the fuss is about.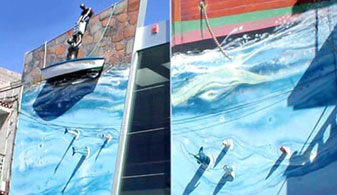 Fisherman's Museum
The last remaining vestiges of Puerto de Santiago's past are gathered in the Museo del Pescador - the Fisherman's Museum. The once thriving port has slowly evolved into a quiet tourist destination, leaving just a few small fishing boats to carry on their ancestors' work. Even if fishing isn't your bag, the museum is worth a visit for the sculptures, photographs and paintings exhibited through the year.
OUR HOTELS IN PUERTO DE SANTIAGO
---