Majorca's capital city is Palma, and it's gorgeous. Fly to Palma and you'll spy the grand 14th century cathedral from the plane. Palma also has its own beach, a giant marina, open squares lined with cafés, and narrow streets leading to hidden gardens. The Serra de Tramuntana mountain runs along the west of Majorca, adding height and spectacle to this small island. The mountain is a World Heritage Site, and there are also traditional farmlands and villages staggering down its slopes.
If you're looking for picturesque, El Arenal is pretty as a picture, with palm-lined promenades running the length of the beach. For stunning beaches, though, Cala Millor steals the show. Think almost-white sand, impossibly clear water, and a Blue Flag status to boot. Families should feel at home in Sa Coma, with its shallow beach and easy access to attractions including go-karting, mini-golf, a tiny train, and a safari. When it comes to nightlife and the best bars in Majorca, Palma sits pretty high in terms of swish bars. And of course, Magaluf is renowned for its nightlife – certainly not for the faint-hearted!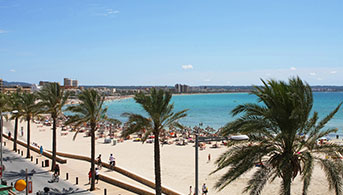 El Arenal
The beach at El Arenal is a heart-breaker. White sand is lapped by turquoise sea, with reed umbrellas dotting the sand. There are also small beach huts lining the edge of the sand, selling cold beers and drinks. The beach has great facilities, and of course, beautiful sunsets.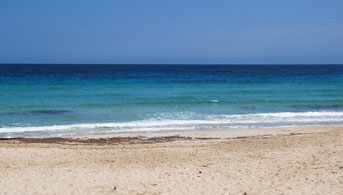 Cala Millor
This Blue Flag beach is enormous. Stretching for a kilometre, and 30 metres deep, there's plenty of room to lounge. The shops and restaurants of the resort line the back of the beach, making it really accessible, and there's also a great range of water sports on Cala Millor beach.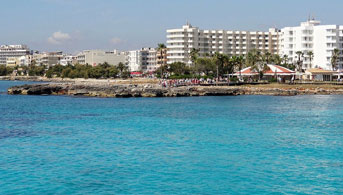 Sa Coma
A great one for families, Sa Coma's beach is fine sand, with sun parasols, life guards, and clear, shallow water. This beach is a good one for paddleboarding and diving, as the waves are generally quite calm. There's a lively promenade behind the beach, with access to loads of restaurants offers children's menus.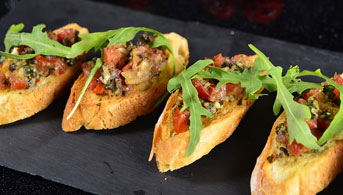 Tapas Festival
The annual celebration of all things tapas, TaPalma is held in mid to late October and gives local chefs the chance to flex their creative muscles and showcase their culinary masterpieces. More than 50 restaurants compete to come up with the tastiest concoction, with a panel of judges selecting the best tapas and chef of the festival. You can decide on your own winner as you indulge on a 'tapas crawl' through the streets, with dishes going for around two euros each.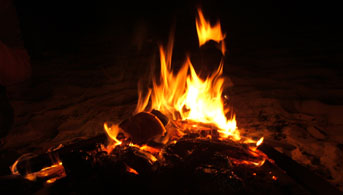 Fiesta of Sant Antoni
The festival of the patron saint of domestic animals is celebrated on January 16th. Beginning at dusk with the lighting of street bonfires in towns and rural villages all across the country, the celebrations include traditional folk singing, authentic foods such as sobrassada, a Majorcan sausage meat that's cooked in the embers, and a lot of wine! Demonic figures wander between the bonfires performing their special dance to commemorate the saint's brave deeds and it's followed the next day by a procession of floats representing rural life parading through the streets. One of the most magical nights in the Majorcan calendar.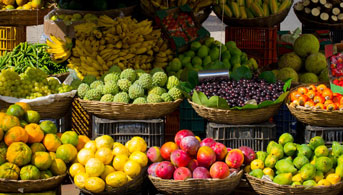 Mercado Sa Coma
Weekly markets throughout the summer offer visitors a chance to buy authentic Majorcan crafts and experience the hustle and bustle of the busy marketplace. Most markets start and finish early and are usually over by 1pm. Early risers and hagglers can try bagging themselves a bargain!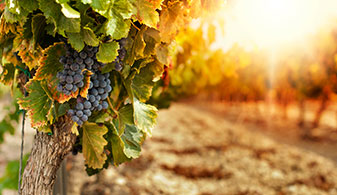 Vineyard tour
There are over 30 vineyards on the island of Majorca, and wine production is in full swing. Most of the island's wine is grown and produced on the Tramuntana Mountain and around Palma. Regional grapes to look out for are Manto Negro (red), Moll (white), and Callet (red), but the island also grow Chardonnay, Merlot, and Cabernet Sauvignon. Get involved with a wine tour of the vineyard, and you'll be taken around the vines, by the owners. You'll be taught all about the pruning, fertilising, and yield of grapes, while enjoying a peaceful wander around the fields. After the tour, most vineyards will usually put on a lunch of bread, meat and cheese to enjoy while tasting some of the wines. Heaven.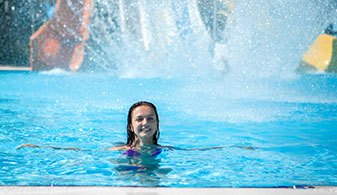 Waterparks
Majorca has its fair share of waterparks – over 10 by our count. The best ones include the inflatables on the sea at Pollenca, C'an Picafort, and Playa de Muro. Aqualand in El Arenal is popular. Western Water Park in Magaluf has, as you might imagine, a wild west theme, while Marineland in Portals Nous lets little ones get up close and personal with the park's seals, sea lions and dolphins.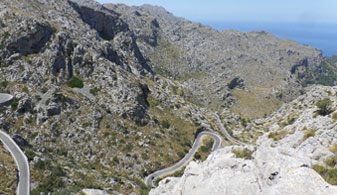 Cycling
Majorca's in the happy place that makes cycling brilliant year-round. There's a huge range of paths, from the demanding to the leisurely. Bike routes around the Tramuntana Mountain are picturesque, while coastal routes let you dip in and out of the small towns and pretty coves along the way. There are bike hire shops all over Majorca, with most opening in February (the busiest time for cycling here) and closing in October. Visit during the winter and you might spot British Team Sky training in Alcudia on the north of the island.
OUR DESTINATIONS IN MAJORCA
---