BLUESEA PISCIS - ADULTS ONLY ***
Calle Teodor Canet, 41 Puerto de Alcudia, Mallorca 07410 (Illes Balears), Spain. hotelpiscis@blueseahotels.es +34 971 545 282
---
Enjoy a stay at BLUESEA Piscis, our three-star hotel located in the Port of Alcudia, on the northern coast of Mallorca and discover a new paradise. In your sun and beach holidays you cannot miss a visit to the well-known Alcudia Beach, a kilometer-long bay with fine white sand and transparent waters.
BLUESEA Piscis has 206 rooms equipped with everything you need for your perfect vacation. There is a 24-hour reception, so you will not have to worry about the arrival time. Relax on one of the loungers surrounding the outdoor pool and get a tan whilst enjoying your favorite cocktail. In the buffet restaurant, Spanish and international cuisine is served, with options for all palates.

If you want to further discover Alcudia, you have the possibility of renting a bicycle, motorcycle or car at the reception. When you get back to the hotel, don't forget to relax with a massage at the hotel's Spa.
FACILITIES BLUESEA PISCIS
---

Lift

Outdoor Pool

 Restaurant

Car Rental

Pool Bar

Money Exchange

24hr Reception

Wi-Fi free

All Inclusive

Disabled Access

Entertainment Programme

Cafe bar
Double Room
Enjoy beautiful views of the pool or the mountain in this comfortable room. It has two single beds, a private bathroom with bathtub, balcony, air conditioning, 32'' TV, free Wi-Fi, safe (extra charge), hairdryer, telephone and bath towels.
from 17 July 2017 until 17 July 2021
Single Room
Enjoy a spacious room just for you. The single rooms have private bathroom with bathtub, balcony, air conditioning, 32'' TV, a large bed, free Wi-Fi, safe (extra charge), hair dryer, telephone and bath towels. Without a doubt the best option for those who travel alone.
from 07 August 2017 until 07 August 2022
Junior Suite
The Junior Suites are especially recommended to those who wish to enjoy that extra space during their holidays. In addition, they offer beautiful views of the pool or the mountain. They have a private bathroom with bathtub, balcony, air conditioning, 32'' TV, free Wi-Fi, safe (extra charge), hairdryer, refrigerator, telephone and bath towels.
from 07 August 2017 until 07 August 2022

Air Conditioning

TV

Wi-Fi free

Terrace or Balcony

Safe (additional charge)

Hair Dryer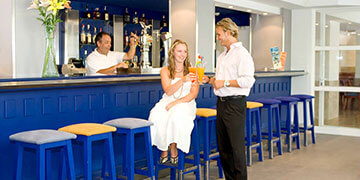 All Inclusive
The All Inclusive package includes breakfast, lunch and dinner in the buffet restaurant as well as a wide range of selected drinks. Enjoy a hassle free holiday. Breakfast 07.00 – 10.30 | Lunch 13.00 – 15.00 | Dinner 19.00 – 21.45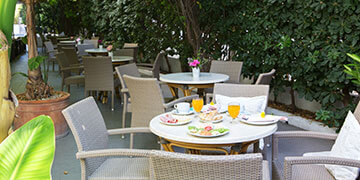 Half Board
The half board is ideal for those who want to spend the day out and explore Puerto de Alcudia. It includes breakfast and dinner in our buffet restaurant with international cuisine.
Snack Bar
You can enjoy a cold drink next to the pool in our Snack Bar. If you choose the All Inclusive package you will have all the snacks you want, at your disposal during the day.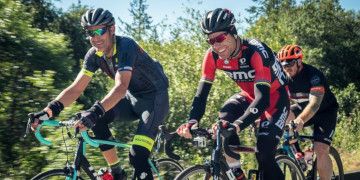 Are you a cycling lover? Our hotel for cyclists in Alcudia is your best choice to practice this wonderful sport in the Paradise of Majorca. The priviledged area of Alcudia is home to wonderful routes accross the north and eastern side of the island. We gather all you need to make your stay as comfortable as possible. We have the seal of aproval from Cycling Friendly. We have recenlty opened a dedicated space for cylcists that features installations such as byke garage with a range of tools and a cleaning area to leave your bike as if it was new after every trip. If you are not bringing your own bike you can rent one at the hotel. If you want to discover Majorca in a different way, you are in the right place. Check our page with routes and further information.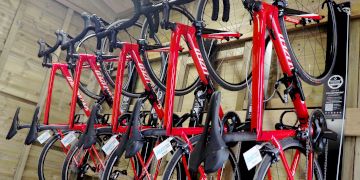 Services
✓Locked bike shed with video surveillance
✓Cycling Friendly garage with tours
✓Toolkit to fix your bike prior to any trip
✓Pumping pump
✓Bike rental
✓Cleaning area to leave a shiny bike after a long day
✓Our own selection of routes for you to enjoy the best spots of the island
BLUESEA PISCIS - ADULTS ONLY
Address: C/ Teodor Canet, 41 Puerto de Alcudia – Mallorca 07410(Illes Balears), Spain. Email: hotelpiscis@blueseahotels.es
BLUESEA Piscis is located in a privileged area of Puerto de Alcudia. Thousands of visitors arrive every year to get to know the north of Mallorca and take a dip in its crystal clear waters. Puerto de Alcudia has plenty of pubs and nightclubs for those who love to party but it is also a place where you can relax and unwind.
The city of Alcudia has a rich cultural and artistic heritage. You will find an incredible medieval wall, as well as the Roman city of Pollentia, perfectly preserved. A visit to the site is highly recommended.
The airport is 60 kilometers from the hotel. Two easy ways to get to and from the airport is by booking a transfer in advance or by taxi. The trip is 50 minutes.