BLUESEA DON JAIME ***
Calle Sa Jordana, 20 07560 Cala Millor, Mallorca (Illes Balears), Spain. hoteldonjaime@blueseahotels.es +34 971 586 371
---
Are you looking for a budget hotel in Cala Millor?
Let us introduce you to our newly renovated BLUESEA Don Jaime***hotel, located in the downtown area of Cala Millor.
Do you love to sunbathe on the beach? The hotel is close to the very best crystal clear water coves and white sandy beaches, which this idyllic Mediterranean island has to offer. In addition, at 250 meters from the hotel, you can find the beautiful golden sandy beach of Cala Millor.
Have we now managed to convince you?
You won't regret it!
Book your beach holidays with BLUESEA Hotels at the best guaranteed prices.
Welcome to the BLUESEA Don Jaime*** hotel!
Our 3-star hotel is located in the beautiful town of Cala Millor, and has been recently renovated, offering our guests a fresh, Mediterranean style. If you love the beach, at a short distance from the hotel you can also find the most beautiful, crystal clear water coves in the southern area of Mallorca.
The hotel has a total of 120 rooms and apartments, fully equipped so that you're not missing anything during your stay.
We also offer you a free, high quality Wi-Fi connection throughout the property, so you can share the best moments of your holidays in Mallorca, on social media.
We have an outdoor pool (with children's area), a solarium with hamocks and a pool bar so you can cool off by enjoying your favourite drink whilst sunbathing by the pool. For the younger members of the family, the hotel offers a kid's playground and a games room so they can play and have as much fun as they want. There is also a pool table and table tennis.
Looking to have some fun? Our excellent animation team offers an extensive program of activities and shows to entertain the whole family.
After a full day of activities, take a rest in one of our hotel rooms or apartments. These are fully equipped and include air conditioning, TV, sofa bed, private bathroom and terrace or balcony.
Forget about the usual daily routine by booking our all-inclusive service. We will do all the work for you! With this meal option you will enjoy our varied, buffet style international breakfast, lunch and dinner. In addition, we offer you various snacks in between meal times and from 10:00 a.m. until 11:00 p.m. you can also enjoy a wide selection of inclusive drinks (local brands).
We inform you that at the hotel reception you can also book a variety of excursions, activities and other services that you may need, so that your sun and beach holidays end up being just perfect.
Do you need more reasons to book your room at the Hotel BLUESEA Don Jaime***?
Don't hesitate any longer and let yourself be surprised by the essence of this wonderful island.
At BLUESEA Hotels we look forward to seeing you soon!
FACILITIES HOTEL BLUESEA DON JAIME
---

Lift

Outdoor Pool

 Restaurant

Car Rental

Laundry Service

Pool Bar

Money Exchange

24hr Reception

Free Wi-Fi

All Inclusive

Games Room

Children's Pool

Playground

Disabled Access

Entertainment Programme
DOUBLE ROOM
Our bright double rooms include a private bathroom with hairdryer, high-speed WiFi, TV, air conditioning and a balcony. A safe and a laundry service can also be hired at an additinal cost.
from 17 July 2017 until 17 July 2021
SINGLE ROOM
Do you enjoy travelling alone? Our single rooms will make you feel at home. they offer air conditioning, TV , free high-speed wifi, a private bathroom and a balcony. A safe and a laundry service can also be hired at an additinal cost.
from 07 August 2017 until 07 August 2022
ONE BEDROOM APARTMENT
The apartments are perfect those looking for that extra space. They offer a spacious living room with a sofa bed, a spacious bedroom, an fully equipped kitchen and a private bathroom with a hairdryer. They also include air conditioning, free high-speed Wi-Fi, TV and a private terrace or balcony. What else do you need?A safe and a laundry service can also be hired at an additional cost.
from 07 August 2017 until 07 August 2021

Air Conditioning

TV

Free Wi-Fi

Terrace or Balcony

Safe (additional charge)

Hair Dryer
All Inclusive
Put your wallet away during your stay and choose our inexpensive All Inclusive service. With this meal package, you can enjoy our buffet style, full international breakfast, lunch and dinner. Do you like to snack in between meals? We also offer you a variety of snacks outside the usual meal times and from 10:00 a.m until 23:00 p.m, you can also enjoy a wide selection of drinks.
Other Board Options
Bed & breakfast: Breakfast only: If you like to explore your holiday destination, gather you strength with our full, buffet-style, international breakfast. You will get all the energy you need for the busy day ahead.
Half board: Enjoy our varied buffet-syle breakfast and dinner. The area of Cala Millor stands out for its wide range of restaurants where you can taste the delicious local and international dishes.
Buffet Restaurant
The buffet restaurant at the Hotel BLUESEA Don Jaime*** hotel is where you will be able to enjoy our delicious buffet styke breakfast, lunch and dinner. The restaurant offers a smart, mediterranean style deco and has enough space to hold groups and big families.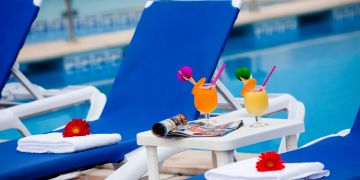 Pool Bar
At the pool bar we offer a wide selection of drinks for you to enjoy whilst you sunbathe and cool off in the hotel pool. There is also a wide range of snacks at your disposal if you like to take a bite in between meals.
BLUESEA DON JAIME
Address: Calle Sa Jordana, 20 07560 Cala Millor, Mallorca (Illes Balears), Spain. Email: hoteldonjaime@blueseahotels.es
Hotel BLUESEA Don Jaime*** is located at just 250 metres from the wonderful beach of Cala Millor. We recommend that you visit the pedestrian promenade that runs along the beach, where you will find numerous shops, bars, cafes and restaurants that will allow you to fully disconnect from the daily routine during your holidays.
The spectacular area of Cala Millor also stands out for the large amount of leisure activities that it has on offer. Do you enjoy hiking? We suggest that you visit the natural cove of Cala Agulla with your family and friends or the emblematic Castell de n'Amer. From Sa Coma, you can reach this castle by riding through the beautiful pine forest!
Take a look at our blog before you travel. In it, we list all the most charming corners of this island and places that you should definitely visit before returning home. Experience all of this and much more by staying with BLUESEA Hotels.
We're waiting for you!