BLUESEA CLUB MARTHAS****
Carrer d'es Parc de la Mar, 6, 07660 Santanyí, Illes Balears clubmarthas@blueseahotels.es +34 971 643 022
---
An attractive apartment complex located in the Es Forti district of Cala d'or, BLUESEA Club Martha's Resort boasts an excellent location, making it perfect for families. With an attractive marina a short trip away and an array of restaurants, bars and cafes within close reach, it offers up a great getaway for those in search of sun and sea in one of Majorca's quieter hotspots.
The Club Martha's resort offers a range of accommodation to suit visitors, including intimate studios and larger family-friendly apartments. Studios cater for up to two people and feature a living area with two sofas, air conditioning, kitchen with fridge, bathroom and either a balcony or terrace. Apartments are available for up to four guests and include the same amenities, as well as a separate twin bedroom for additional guests. Both studios and apartments include a satellite TV, microwave, kettle and hairdryer to use at a local charge.
FACILITIES BLUESEA CLUB MARTHA'S
---

Lift

Outdoor Pool

 Restaurant

 Air conditioning

Games Room

Adult entertainment

Kids' entertainment

24hr Reception

Laundry Service

Wi-Fi (free in reception)

Disabled Access

Medical assistance

Cafe

Safe

tennis court

Parking

Conference room
APARTMENTS
The Club Martha's apartments are designed with families in mind, with a separate twin room to cater to extra guests. Each apartment also includes a pleasant living area as well as a kitchen area with a fridge and kettle.
from 17 July 2017 until 17 July 2021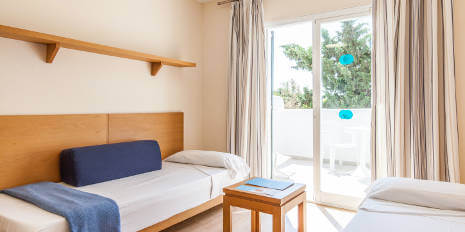 STUDIOS
Studio apartments are ideal for couples and smaller groups, with modern amenities and a comfortable living space. Each studio includes twin beds, air conditioning and heating and en-suite bathroom as well as a small kitchen area.
from 17 July 2017 until 17 July 2021

Air Conditioning

TV

Wi-Fi (additional charge)

Terrace or Balcony

Telephone

Safe (additional charge)

Heating

Hairdryer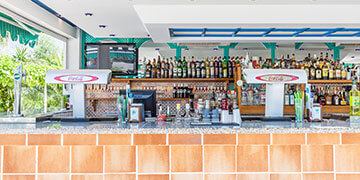 All Inclusive
The all-inclusive package is a great value for money option which provides guests with buffet breakfast, lunch and dinner plus a range drinks available from 10am until 11pm and snacks from 11am to 12.30pm and from 4pm to 6pm. All-inclusive drinks include soft drinks and hot drinks, water, and alcoholic beverages such as local beer, wine and spirits.
Buffet-restaurant
In our buffet, we offer breakfast, lunch and evening meal. With a very careful selection of our products, we make up a spectacular menu, which is ample and varied.
Natalie
Restaurant and café in the hotel where you are able to sample an impressive list of wines, liquours, and cocktails. The restaurant has international cuisine, and the menu is a delight of even the most discerning of clientele. The meals will be the talking point of your holiday memories.
Pizzería
The hotel has a pizzería whose reputation is well known locally, for its expertly made hand made pizzas. You are able to choose your own, or simply order one of the traditional choices
Bar Moogie
The moogie is an open air bar, from which you can enjoy a drink and view the nightly show that is organized by the hotel for your enjoyment. We are known for our specialized cocktails and natural fruit juices.
BLUESEA CLUB MARTHAS
Carrer d'es Parc de la Mar, 6, 07660 Santanyí, Illes Balears
Formerly a quiet fishing village, Cala d'or is a quiet destination on Majorca's southeast coast. An enticing mix of old and new, its cobbled streets give a glimpse into its charming past while its marina, decked out with expensive superyachts and waterside restaurants, add a dose of sophistication.
When it comes to beaches, you're spoilt for choice. The nearest stretch of sand is just 300m away from the hotel, while six other beaches are within close reach. Cala Gran is the biggest of all the beaches, where you'll find a wealth of water sports and sun loungers as well as a beachside bar serving up snacks and cocktails. Away from the beach, there is a number of leisure activities to enjoy. Majorca is known for its excellent golfing spots, with at least five golf courses to be found along this stretch of coast.