BLUE SEA CALAS MARINA ***
C/ Asturias, 1 03502 Benidorm, Alicante, Spain. calasmarina@blueseahotels.es +34 965 850 216
---
The 3-star Hotel Calas Marina is ideally situated just minutes from La Cala, Ponientel and Malpas beaches, close to the centre of the popular tourist resort of Benidorm. The hotel makes an ideal base, with well-equipped, comfortable accommodation and a host of facilities on offer nearby.
Benidorm Old Town is just 3km away, so guests will find themselves within easy reach of a day spent exploring, shopping, dining and immersing themselves in Spanish culture. If you're looking to further explore the surrounding area, the hotel is 250 metres from the promenade.

Each of the 117 rooms is well-appointed in traditional style and comes complete with a balcony to enjoy the sun's warm rays in privacy, as well as being equipped with air-conditioning, telephone, private en-suite, in-room safe (extra charge), free WiFi, TV and infant bed.

Calas Marina Hotel has a large outdoor swimming pool for residents looking for a cooling dip during a day spent relaxing in the sun, and a separate children's area for kids to enjoy some aquatic fun. There are several terraces with loungers provided for those perfect, warm lazy days.

Hotel Calas Marina has its own restaurant, which serves a combination of delicious local and international cuisine. There is also a snack bar serving light meals and refreshments during the day, as well as the main bar, where guests can enjoy a drink or two.
FACILITIES BLUE SEA CALAS MARINA
---

Children's Pool

Outdoor Pool

Restaurant

Car Rental

Bar

Free Wi-Fi

Entertainment Programme

24hr Reception

Money Exchange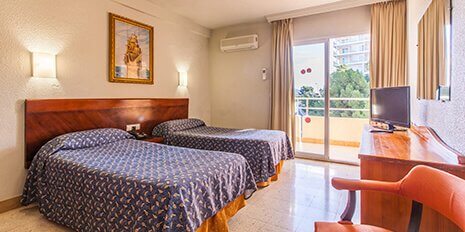 Double Room
Double rooms are perfect for couples and families, who can make use of the well-furnished space and enjoy its traditional style of decoration. Each room comes with a private balcony, en-suite bathroom, telephone, safe (extra charge), free Wifi, TV and extra bed.
from 17 July 2017 until 17 July 2021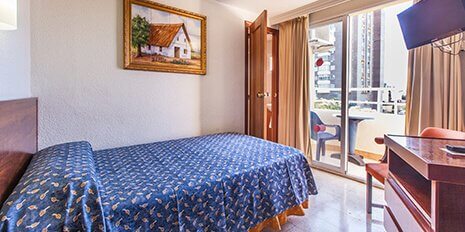 Single Room
Single rooms make the ideal space for solo travellers, who can watch the world go by and enjoy pleasant views from a private balcony. The rooms are spacious and are equipped with an en-suite bathroom, free Wifi, telephone, TV and safe (extra charge).
from 21 August 2017 until 21 August 2021

Air Conditioning

TV

Heating

Terrace or Balcony

Telephone

Caja fuerte

Free Wi-Fi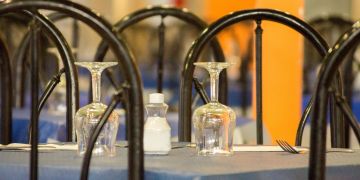 Board Options
Bed and breakfast: Buffet breakfast.
Half board: Breakfast and dinner buffet.
Full board: Breakfast, lunch and dinner buffet.
Drinks are not included.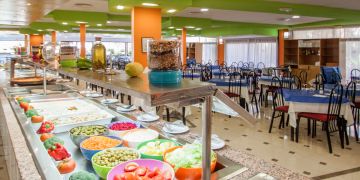 Main Restaurant
Hotel Calas Marina provides breakfast, lunch and dinner in its buffet restaurant, which becomes a hub of activity during mealtimes. Guests can enjoy hot or cold international cuisine, with something to suit every taste.
Breakfast: 08.00 - 10.00 | Lunch: 13.00 - 15.00 | Dinner: 19.30 - 21.30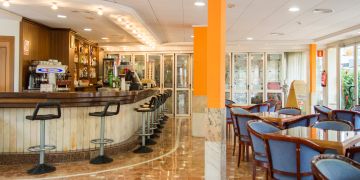 Bars
There is both a snack bar and a main bar available at Hotel Calas Marina. The snack bar serves light refreshments throughout the day for guests in need of a hot or cold drink or something to keep them going into the night. The main bar is the ideal spot for enjoying a few evening drinks.
BLUE SEA CALAS MARINA
Address: C/ Asturias, 1 03502 Benidorm, Alicante. Spain. Email: calasmarina@blueseahotels.es
Blue Sea Hotel Calas Marina occupies a great location in Benidorm, which is famed for its sun-drenched days and fun-filled nights. The area offers plenty to do for families and couples. The Old Town is particularly quirky, with its authentic Spanish culture, cobbled streets and whitewashed houses. The blue-domed church offers stunning architecture and history, and there are more than 50 fiestas to be enjoyed in the town throughout the year.
Sandy beaches are a big thing in Benidorm, and Calas Marina is perfectly located to enjoy many of these. The sandy beaches of Ponientel, La Cala and Malpas are all located just a short walk away, with plenty of activities for the family to enjoy throughout the day.
Those looking to sample the local cuisine can head into the centre of town, where there's a plethora of restaurants and bars offering traditional food. Night owls can party into the early hours at the numerous bars in the area, experiencing all the fun Benidorm has to offer. For those who prefer a quieter holiday, a stroll along the promenade is the perfect evening activity. For a great family day out, head to Terra Mitica, Benidorm's popular theme park, or the nearby marine park Mundomar.