As soon as you land in the Costa Blanca, you'll no doubt find yourself drawn to the sea. Lapping the gorgeous south-eastern coast of Spain, the Balearic Sea effortlessly remains a top attraction. Seek out the perfect sandy spot to lay down a towel and catch the warming rays you've been longing for, followed by a cooling dip in the sea. Sound dreamy? Welcome to a Costa Blanca holiday!

If you're treating the kids to a sunny getaway, there are plenty of attractions and activities to make sure they have the time of their lives. Look no further than the beach for thrilling water sports and snorkelling, or if you can prize yourselves away from the shore you'll find wild water parks and rides further inland.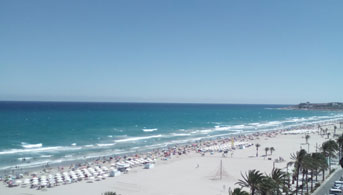 San Juan de Alicante
This 7km stretch of Blue Flag bliss sees holidaymakers returning day after day, and in fact year after year. You'll find this easy to access beach is ideal for all, with fun activities such as beach volleyball on offer, plus an impressive promenade lined with shops, bars and restaurants. San Juan de Alicante has it all, there's even a mini-golf course nearby too!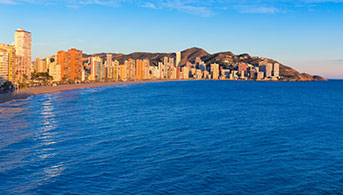 Playa de Levante
Benidorm's main stretch of beach is an ideal bay for making the absolute most of Spain's White Coast. With shallow, rippling waves and lifeguards present throughout the day, Playa de Levante was made for families. Stroll along the promenade and take in the views, or grab a sun lounger and make the most of the gorgeous summer sunshine. The choice is yours!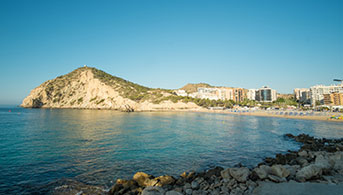 Cala Finestrat
If the lively shores of Alicante and Benidorm are a little too busy for your liking, a tad further along the coast lies Cala Finestrat. Much smaller in size, this friendly bay boasts soft sand and blue waters along with a handful of good restaurants and shops nearby. You'll also find an arts and crafts market here along the seafront so keep your eyes peeled for some great souvenirs to take home with you. Still within easy reach of Benidorm, Cala Finestrat is the ideal place to visit for a spot of peace and quiet.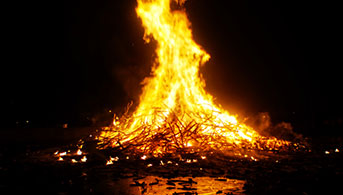 Bonfires of St John
For something cultural, head to the Bonfires of St John festival. It takes place on the 23rd June and features papier mache and wooden figures, which are displayed and then burned on the nit del foc. Head to the areas of La Cala, the Central Market, and the Old Town for the best ones.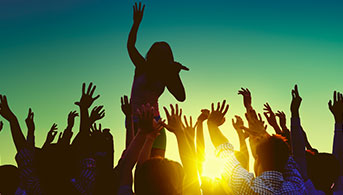 Low Festival
Low Festival has been running for over seven years, and is Benidorm's biggest festival. It runs in late July, and there's always a great line up. Previous acts have included Franz Ferdinand, Belle and Sebastian, The Kooks, and lots of local Spansih DJs. There's great food, a huge pool, and enough room to relax and enjoy the music.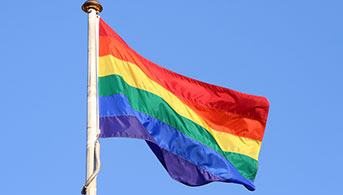 Benidorm Gay Pride
If you're looking for colour, look no further than Benidorm Gay Pride! Running every year in September, the whole of Benidorm lights in up a spectacle of neon, sequins and love. There's a huge parade that starts on Playa Levante and snakes towards the Town Hall, after which there's mass partying and live music.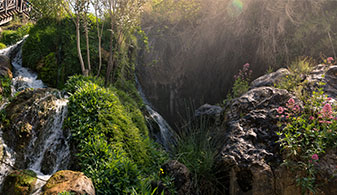 Algar Waterfalls, Alicante
If you fancy a change from the Costa Blanca's beaches, Algar Waterfalls are the perfect alternative. Just a 30-minute drive from Benidorm, this natural wonder treats the eye with beautiful flowing waterfalls, enticingly clear pools and colourful flora throughout. Don't forget to pack your swimming gear and towel as visitors are welcome to take a dip in the naturally formed pools that are simply impossible to resist.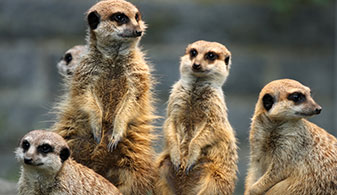 Terra Natura Zoo Theme Park, Benidorm
Comprised of four zones designed to fully immerse visitors in the animals' natural habitats, a visit to Terra Natura is a unique experience for all ages. From the exotic landscapes of Asia including elephants, tigers and rhinos to the colourful birds and playful monkeys of America, witnessing these incredible species in a spacious and natural environment makes this zoo a must visit. Terra Natura is both educational and awe-inspiring - a great day out for anyone and everyone.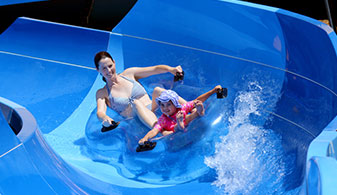 Aqualandia, Benidorm
Offering three different levels of thrill; infantile, moderate and radical, Aqualandia water park in Benidorm boasts plenty of rides to keep everyone happy - no matter how daring (or not). Gently bob around the Amazon lazy river, splash the little ones in the Laguna pool or whizz your way down spiralling slides - Aqualandia offers wet and wild fun for all of the family. Located right by the coast of Benidorm, this holiday hotspot may even be within walking distance for some!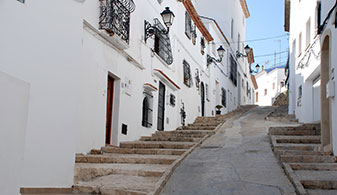 Benidorm Old Town
In recent years, Benidorm has become known for its lively beach-front being a particular favourite with British tourists. However, Benidorm has also maintained much of its old-world charm in the old town. A maze of cobbled alleys, wonky villas and archaic churches, the old town encompasses the very best of traditional Spain. Head to the renowned 'Tapas Alley' for the best bites of the delicious dishes that have made Spanish cuisine so popular worldwide.
OUR DESTINATIONS IN COSTA BLANCA
---
OUR HOTELS IN COSTA BLANCA
---